The Mystery of "Juggy" John Evans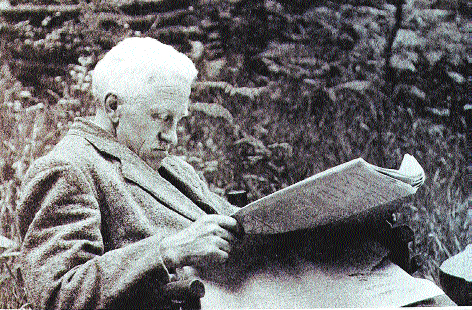 Wilmslow Express
Mystery of the Edge 'hermit'
Elizabeth Broomhall
July 30, 2008
IT'S 75 years since the death of Alderley Edge hermit and cartographer of the mines John Evans, but his demise is still shrouded in mystery.
Born in Salford in 1883, John Evans was brought up by his father, a postal clerk, after his mother died during childbirth.
But following a breakdown when he was 33, he retreated to the woods at the highest point above Alderley Edge where he built a lonely log cabin.
It was in this cabin he lived as a recluse until his tragic death on July 24, 1933 when he took a fatal dose of potassium cyanide just three days after a young friend suffered a similar fate.
But 75 years on, the events leading up to his death and why he would want to commit suicide, remain a mystery.
Well-educated, John grew up to become a renowned and respected railway engineer, but he was forced to take early retirement following a breakdown, thought to be the result of losing his one true love on the doomed Titanic in 1915.
Diagnosed with "neurasthenia" and unable to work or serve in the forces, John's doctor advised him to "live among the pines".
So he retreated to the highest part of Alderley Edge: the Church Quarry, on the Stanley estate.
It was in this lonely spot in the woods, 100 yards from the Wizard Hotel, where he built his "Bergli" Hut.
Swiss for "little mountain", the one bedroom cabin was kitted out to the highest standard with fashionable furnishings, carpeting and a well-cultivated garden.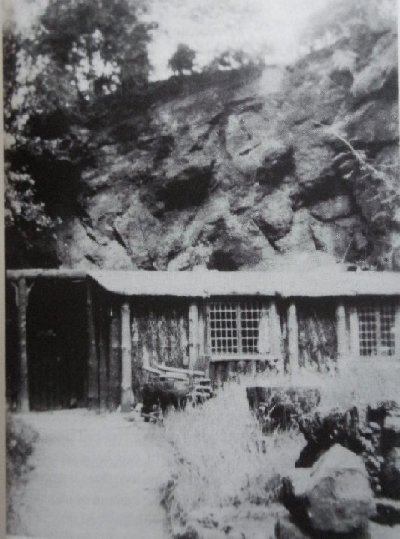 Populated with rocks, quarries and mining tunnels, the Edge was an ideal location for Evans.
Intrigued and fascinated by geology and archaeology, and with an expert knowledge of rock minerals, he was free to perform gold analysis, examine archaeological remains and lead an active, outdoor existence without interruption.
But despite his reclusive tendencies, the well-spoken and well-dressed Evans was a sociable individual who was popular and considerate.
As a member of the climbing club at Manchester University, he helped visitors to the Edge improve their climbing skills. He also helped police track down climbers who got lost or injured in the area.
As well as ropes and flares, Evans' interest in mountaineering led to an exploration of the copper tunnels and mines beneath the Edge.
His maps of the mines are considered some of the most comprehensive and respected documentation of the area and were used during the Second World War.
Although John Evans was known for being hostile to women and uncomfortable with their presence - regularly shooing them away from the Quarry - he was a sociable character: he was well known for his barbecues by his hut and late night singing songs playing his pedal organ.
But it would seem that it was this hermit's sociability that led to his sad demise.
On July 21, 1933, after drinking in the Queen's Hotel, Evans returned to the Bergli Hut with two friends.
Realising that their motorbike had no lights, the visitors decided to stay.
But during the night one of the men, 20 year-old Walter Whitelegg, became sick and complained of a burning feeling in his chest.
Initially Evans attributed the sickness to alcohol, as Walter came from a teetotal family.
But as his condition worsened, Evans called a doctor from the Wizard Temperance hotel.
By the time the doctor arrived, Walter was dead.
With no obvious cause of death, an inquest was opened on July 24, 1933.
When Evans failed to appear as a witness, police went to the Bergli Hut where they found him dead - from potassium cyanide poisoning.
The inquests into both deaths suggested that cyanide had been kept in the hut for gold analysis and trace amounts were in a drink given to Walter, accidentally poisoning him, and that Evans had killed himself in the same way.
But for many, the issue of how Walter became poisoned remained a mystery.
While it is plausible that Evans gave Walter a small dose of the cyanide as a medicine or sedative - as cyanide was regularly given to patients with upset stomachs - recent evidence suggests Walter may have accidentally poisoned himself by using a contaminated glass or helping himself to Evans' stash.
But the burning question as to why John Evans would kill himself also remains unanswered.
At the inquest, the coroner suggested he did it to avoid the humiliation that might arise should stories of his alleged homosexual involvement with the men become public.
But others have rejected this, suggesting he did it because he blamed himself for Walter's death.
Whatever the truth may be, it seems it was buried with this Alderley Edge hermit 75 years ago and will continue to remain a mystery.